Buttermilk Graffiti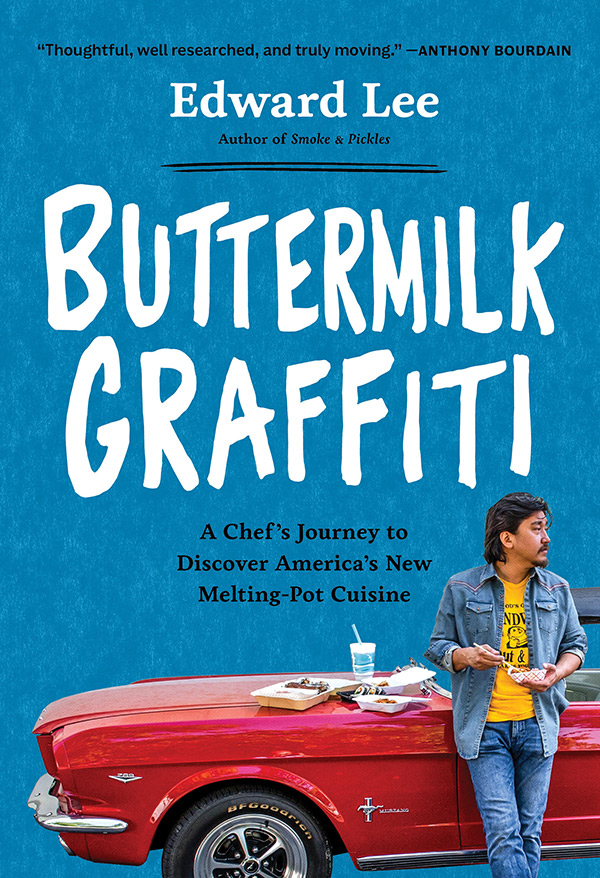 In Chef Lee's most recent book, he travels the country in search of America's new melting-pot cuisine. American food is the story of mash-ups. Immigrants arrive, cultures collide, and out of the push-pull come exciting new dishes and flavors. Chef Lee explores the people behind the food. Who are they, and what are their traditions, innovations and memories? This book is part food essay, part travel book, part memoir and part cookbook. It is Chef Lee's most personal book so far.
Smoke & Pickles
Chef Lee's first cookbook chronicles the story of how he was raised in Brooklyn in a family of Korean immigrants and eventually moved to Louisville, Kentucky, where he opened the acclaimed restaurant 610 Magnolia. His improbable journey is told through stories and recipes that explore the intersection of Korean food and Southern culture. Dishes like Adobo Fried Chicken, Collards and Kimchi, Miso-Smothered Chicken plus more than 130 exceptional recipes have made this cookbook one of the essential books about the American South.
Order a copy here.
Fermented
Official Selection Seattle International Film Festival 2017
Look deeper, get dirty, and find the beauty in rot. In the feature-length documentary FERMENTED, author and chef Edward Lee goes on a journey to understand how the ancient process of fermentation is used in modern cuisine both at home and abroad. The culinary world has labeled fermentation as the hottest food trend at the moment, and this film stands as point of entry into the deep dark world of beautiful rot, and what it means to humankind.
Watch Trailer and get the film now https://www.fermentedfilm.com/watch
Mind of a Chef
Season 3
In the first eight episodes of season 3 of The Mind of a Chef, chef Edward Lee embarks on adventures that take him out of the kitchen and into the depths of what moves and motivates him – seeking the history of what it means to be a chef, the key to making a perfect bourbon, the call of that culinary siren, the American South.
Appearances
If you can't make it to any of my appearances, you can order signed copies of both of my books, Buttermilk Graffiti and Smoke & Pickles, from my local bookstore, Carmichael's, which ships anywhere in the world. The link to order from Carmichael's is here.